The Working Man: an Animated Short Film
A few weeks ago I opened a YouTube account and posted my first animated short film. It was the culmination of a long journey to get my labor of love across the finish line. For a year and a half I'd spent late nights and weekends drawing and coloring 10,000 frames of animation. And when I posted it, the unexpected happened. Making a hand-drawn animation is not for the faint of heart. It is an extremely tedious process, it requires a lot of patience and most of all, a lot of time. Let me walk you through the process of creating an animated short.
STORY
The process of creating an animation is similar to standard filmmaking. It begins with a story. This is the most important element of all. You could have beautiful animation, perfect performances, but if your story sucks, well, so does all of the hard work you put into your project. I worked hard on the story, I tested the story with everyone I knew. Sometimes they would have questions, sometimes they would offer suggestions, and often they would help make the story better. I feel like this is the most important phase of the entire process of storytelling. You have to be willing to listen, to gauge responses, and to take criticism.
STORYBOARDS
A storyboard is a beat by beat drawing of the entire film. Storyboarding is absolutely essential to the process. It solidifies the film by being specific about what exactly will happen and how it will look. It forces you to think about characters, acting, backgrounds, setting, pacing, and of course the shots. I love this part of the process. I have a clear picture of it in my head, so I work as fast as I can to create my vision. Often the storyboards will spark new ideas as well. Everyone has their own way of doing storyboards, but I liked seeing the animation frames stacked on top of each other with the notes on the side. Which is why I made a template for my storyboards based on the one used for anime.
ANIMATIC
Once the storyboards where completed I moved on to making an animatic. This is where you get a chance to test your story and see if it works like you imagined. An animatic is an animated storyboard. It is a chance to see the film in stills. I scanned in my storyboards and added music and sound effects. I timed everything out like the final film would be. This part of the process takes a lot of time and it forces you to make decisions and it is also a very rewarding part of the process. When you start to assemble the storyboards together you get to see the film come to life, and you get to see if the film is going to work like you planned. Once I finished the animatic I tested it with everyone and listened to their feedback. You would be surprised how much people respond to the animatic. On other projects, I've had people cry watching an animatic, and when people cry to drawings, you know it's going to work.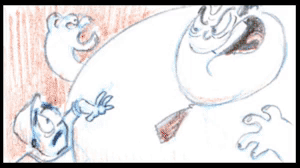 SOUND DESIGN
In animation nothing makes a sound, so you have to create every sound. And sometimes finding the right sound can take a long time. For instance, what sound does a light bulb turning on make? It doesn't really make much of a sound. But in the case of my short, I needed it to play a dramatic role. The bulbs are a huge aspect of the film, so I knew their sound would be critical. I also knew the bulbs needed to sound like the old-fashioned kind. What I came up with is not at all what you think you are hearing. The sound of the bulb initializing begins with a briefcase latch clicking, then an old 8mm projector powering on, followed by the familiar fluorescent bulb hum. The entire film was an exercise in creative sound design. I made the decision early on not to have any talking. I had a version initially with talking and it just didn't feel right. But since there was no talking, what sound should an screaming angry boss make? So I went for the emotion, I decided that it needed to be a roar, so I tried a lion roar. The lion roar wasn't quite right so I began layering different roars, and ended up with roars from crocodiles, hippos, rhinos, and bears.
CHARACTER DESIGN
You may have noticed a few different character designs in the animatic, that is because through the entire process I was refining and changing the character design. I went through a lot of iterations of the character. Finding something that looked good from every angle was the most challenging part of the design process. I knew I wanted the main character to look depressed, I knew I wanted him to have a hat, I knew he was thin and emaciated, tired, and wrinkled. I knew I wanted him to have a big nose. I wanted him to look like he barely made enough money to eat, and the boss would be the opposite. The boss would be fat, gluttonous with a toupée. I wanted the two characters to be the exact opposite of each other, which would also make them easy to read . I wanted the boss to be squishy, making him a lot of fun to animate. The executive had to be contrasted from the other two characters so I made her a short older woman with dentures. I gave her dentures because I thought it would be fun to animate them dangling in mid air.
ANIMATION
I hadn't animated before, so I read every book I could find on the subject and then jumped right in. I knew I wanted draw the animation on paper, so I bought a animation disc from eBay, bought some animation paper and got to work. At first it was scary, there is always that moment that you think, there is no way I can do this. So I did some animation tests, and then the most awesome thing happened, the character started to come to life. It was like magic. It was revitalizing, and extremely fun. I studied anime and cartoons I loved, clicked through frame by frame studying how they made their characters come to life. I gained a renewed respect for animators, let me tell you, they are incredible artists, it is not easy to make Bugs Bunny do his thing. Once I had my drawings made I scanned them in and cleaned up the drawings in photoshop. Once all of the line drawings were completed I put them into Adobe Premiere and created a pencil test of the entire short. Then I made tweaks and even re-animated a few shots that I wanted to revisit.
COLORING
Coloring was the least fun of the entire process. Psychologically it felt like I was starting all over again. Coloring was the most tedious process of all, I watched A LOT of Netflix while doing this 🙂 There was a point where I was at 80% of coloring and I remember telling my wife "I quit, this is too much." She was encouraging, and a trip to the beach didn't hurt either. Coloring was extremely satisfying however. Seeing the final color on a shot, and knowing that part was finished was very rewarding. Once the coloring was completed it was time for the backgrounds.
BACKGROUNDS
Backgrounds really play a major role in setting the tone of the film. I painted the backgrounds in photoshop and made foreground elements to add a cinematic feel.
THE UNEXPECTED
When I posted my video on YouTube, I was anticipating my video being viewed by friends and family, but what happened was completely unexpected. Within hours I was getting thousands of views, then tens of thousands of views. Then the video hit the #5 spot on YouTube's trending page. Within two days I had thousands of comments and subscribers, and 500k views. But what impacted me the most were the comments, people connecting to the story, talking about life and their experiences.